I called Michelle because she had sold the home of a friend a few years back, and I had been impressed with how quickly it sold and the price they had gotten. My very discerning friend had literally gushed about Michelle & her skills as a real estate agent.
I am so pleased that we chose Michelle to represent us when we sold our family home this March. We had no idea how to proceed since it had been more than 20 years since we'd bought; we had not yet purged the remnants of raising our family; and to top it off, the market was changing quite drastically. We knew we needed an effective strategy. Michelle was knowledgeable, calm & reassuring about the market conditions. She sensed the kind of help we needed to boost our confidence. She provided us with a home handyman & professional staging consultations – and voila, the next thing we knew, we had a vision, a plan and a timeline. We were ready within 3 weeks, and were very proud of how we presented our home. We had grown even more confident that Michelle was 100% committed to getting us the fairest & best possible price. It took 11 days for a solid offer come in. Michelle was our unshakeable representative as the deal was finalized. She was available whenever we needed her, to answer questions or manage details. Her knowledge & experience, her calm and her kindness, contributed greatly to making this a positive experience rather than the chore we had expected.
Louise McLaren
---
Thanks! I could NOT have done it without you!!! Michelle, you have saved me & made me much more money than the average realtor would have – THANK YOU!
It's always a pleasure working with you & your negotiation skills are the best in the business. It's evident when buying &/or selling you know the market & its trends.
You are so experienced & knowledgeable – You're a gem! I can't wait to buy my next investment with you be it my dream home or my another revenue property! Thanks again for your hard work, dedication & looking out for my best interests K.
---
Milo was my realtor during a time of family crisis that necessitated the sale of my parents' home. Milo's professionalism was evident from the beginning when he provided a market evaluation that helped me understand what would be the best price to put the home on the market for. There were some unforeseen difficulties preventing a simple closure of the sale and Milo's patience and positive nature helped me through this stressful period. He responded promptly to my many emails and phone calls, always providing an answer in terms that I could understand. I would not hesitate to utilize Milo's services again or recommend him to others. Thanks again Milo. Randy Turner, home seller
---
Michelle made the selling process a great experience for us and we're very, very happy!
– Corry & Ron 
---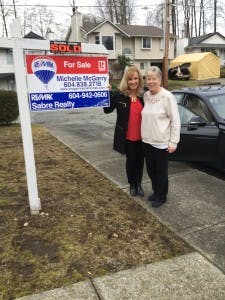 Thank you for the awesome job you did selling our house! Your knowledge and helpful hints were greatly appreciated. We are very happy with the results! – Joan and Val
---
Dear Milo and Michelle, My husband Wilfred and I want to thank Michelle for all her efforts in finding us a perfect new home in B.C.. It's a big change for us but she made it both exciting and easy for us. Working from a distance with only the internet information is foreboding but Michelle answered all my questions and had a list of suitable condos ready for me to view on my arrival in Vancouver. She quickly picked up on my wants and needs and in two short days we signed papers for our new home in Coquitlam. I will certainly recommend Michelle & Milo to my friends when they need an agent and want to thank them again for all their help (and the taxi service!). – Jean L. Lee
---
Dear Milo and Michelle, When it came time for my wife & me to buy our first home, we were recommended to give Milo a call. We were a little bit apprehensive about the process of buying a home, not ever having gone through it before, but Milo made us feel very much at ease and comfortable from start to finish. Everything was done at our pace and because of Milo's knowledge, at no time did we feel like we didn't know what we were doing. I wouldn't hesitate to recommend anyone calling Milo when they're buying or selling their home. Personally, we're looking forward to working with Milo when we purchase our next home. – Kurt and Iveta Nelson
---
Milo, You have now sold 9 properties for us and various family members. We keep coming back to you because we know we can trust you. The importance of trust in this day and age cannot be overstated. It's comforting to us to know that when it comes to buying or selling real estate we don't have go back out into the jungle alone. We wish you continued success in your business. – Joe and Sonia Smuin
---
Dear Milo, Looking for the right house can be a daunting task……unless you have the right realtor on your side! We were immediately impressed with your warm, friendly personality. You made shopping for a home fun and easy. You were always patient and caring with the task at hand. And most importantly, you helped us find the home to meet our current needs and wants in a timely manner that seemed  virtually effortless on your part. We will definitely be calling you again when we decide to buy/sell again. Thanks Milo! – John and Melissa Willamson
---
Milo and Michelle, Sherry and I want you to know how pleased and comfortable we are in our "new" townhouse…..for us it's perfect! Your patience, perception, professionalism, tenacity and hard work made all of this possible. Right from the start, your manner and "soft touch" gave Sherry and I the confidence that you would flush out the right opportunity for us…. and you did. Creatively, you found solutions to any and all challenges that arose and never quit trying to make the deal work for us and the sellers. Milo, we commend your performance and "thank you" for a job well done……..without you it wouldn't have happened. Should we ever sell it, you're our guy. – Kirk and Sherri Henderson.
---
Dear Milo, Anne and I want to thank you for yor help in finding our new home. Here are a few reasons we selected you. First was your comprehensive knowledge of the real estate market and second was your professional manner. We were also grateful that you actually gave us your truthful opinion of the houses we reviewed, not to mention your great dedication and kindness. I has been a great experience working with you. If you ever need a referral we would be glad to let people know our great experience dealing with you. – Anne Fedorowicz and Frank Vassallo