Put our experience to Work For You Today!

Milo and Michelle met in 1985 while attending BCIT's Marketing Management program. Both gravitated towards the Real Estate option of the program and in 1987 they graduated and began their real estate careers. Milo pursued commercial real estate with CB Commercial, a major downtown firm while Michelle dove straight into residential sales with the venerable firm of Block Brothers Realty. Both enjoyed immediate success in their chosen fields. After dating for 2 years they decided to make their partnership permanent and were married in August of 1989. In 1992 after 5 successful years in commercial real estate, Milo decided it was time for a change. In June of that year Milo entered the exciting world of residential real estate sales. In no time they were enjoying great success racking up sales awards and creating long lasting customer relationships.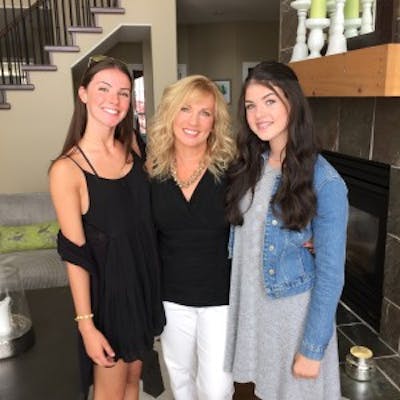 On the family front Michelle & Milo have 2 girls, Tara age 16 and Marisa age 21. There's never a dull moment in the McGarry household with Marisa at SFU and Tara in high school. Milo and Michelle both set their family as their number one priority. With flexible working hours they are both able to be there for their kids and they wouldn't have it any other way.
Coquitlam, Port Coquitlam, Port Moody Real Estate Milo and Michelle McGarry
Milo and Michelle have been selling detached homes, apartments and townhouse in Coquitlam, Port Moody, Port Coquitlam and Anmore since 1987. Over the years they have helped countless people achieve their real estate dreams. With 29 years experience each and a winning attitude it's no wonder they have achieved outstanding success.
We Know the Tri City Area and the Opportunities Here
Because they've lived in the Tri City area for many years and are raising an active family, Milo and Michelle are invested in the community personally as well as from a real estate business perspective. They know the people, the services, and the amenities of every nook and cranny, and can give you an insider's point of view on any question you might have.
Coquitlam, Port Coquitlam, Port Moody and the entire Tri-Cities area has experienced a tremendous real estate boom in recent years and Milo and Michelle can show you why. The area is central to the Lower Mainland, clean, picturesque, and has some of the best shopping areas in BC. It offers a variety of property types and a great range of pricing. Choose from urban apartment living to waterfront to award winning subdivisions and everything in between, all coupled with a dynamic business community and a young, thriving atmosphere. It's not only a great place to invest but a great place to live and raise a family as well.
Awards for Real Estate Sales in Coquitlam, Port Coquitlam, Port Moody
Over the past 29 years, Milo and Michelle have come to understand that the job is more than just selling homes. It's about helping people achieve their real estate dreams. It's the interaction with people that brings the most enjoyment to their business. Success comes when customers get what they want. Over years Milo and Michelle have garnered their share of awards with more than a dozen annual finishes in the top 10% of the Greater Vancouver Real Estate Board but none of it is worth it without happy and satisfied customers. In fact, their entire focus is centered on customer satisfaction. Making sure that their customers expectations are exceeded is their objective. By making absolutely certain that their customers needs come first has earned them many faithful and satisfied fans.
Over the past 29 years have lived the dream, creating and maintaining a thriving real estate business on top of raising a family.
Testimonials
Milo and Michelle are well known and respected amongst their fellow realtors for being reliable, knowledgable and easy to work with. Here are some testimonials from actual customers that Milo and Michelle have worked with in the past.